- Philly.com, May. 17 2017
Dr. John & The Gris Gris Krewe New Orleans Jazz Fest Raves
The first stop was the Acura Stage and Dr. John. That green suit… that hat… that long dread ponytail…Cool, understated, and totally captivating, with that unmistakable growly voice. The crowd was full of grinning faces when he started into "Right Place, Wrong Time."
- Offbeat Magazine
"A green suit-clad Dr. John (Mac Rebbenack) settled in at the Acura Stage with his star-stuffed band of New Orleans musicians. With Herlin Riley on drums and Roland Guerin on bass, the grooves on classics like "I Walk on Guilded Splinters," "Right Place Wrong Time" and "Such a Night" were loose and funky, giving Rebennack plenty of room to stretch out on piano and keyboards beneath his husky growls and incantations … Though Rebbenack, 76, moved from piano to keyboard with the help of two carved wooden canes, he sounded strong."
- Gambit Weekly
"Dr. John, fronting a revamped and much-improved band of New Orleanians that included drummer Herlin Riley, bassist Roland Guerin, guitarist Eric Struthers and guest saxophonist Charles Neville, followed an epic "Big Chief" with his salacious "Such a Night." He then strutted offstage, grinning, surround by a trio of scantily clad young ladies."
- New Orleans Advocate
Dr. John kicked off his set with Danse Kalinda, and his trio of dancers did just that. Charles Neville returned home to play soaring sax solos with Dr. John's band The Gris Gris Krewe. Throughout the set the crowd grew. Having played just before the rain last year and just after the rain this year, Twitter fans theorized that Dr. John had some sort of voodoo control over the weather."
- Huffington Post
Dr. John gets ready for 'Late Show' with Colbert and Jazz Fest
Dr. A visit with Dr. John is a journey into the singular mind of the Night Tripper. That said, don't necessarily frame Dr. John in the spooky vibe of "Gris-Gris," the trippy debut album he released in 1968.
...read more >>
- NOLA, Apr. 25 2017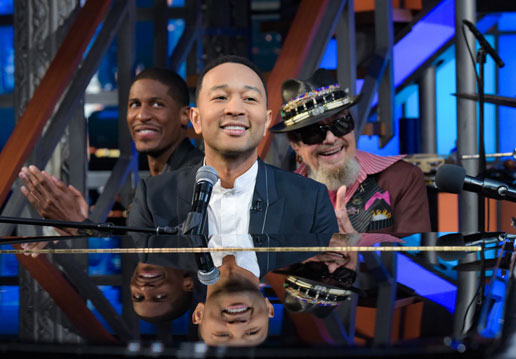 Interview with Dr. John & Chef Donald Link
Q&A with Dr. John and Donald Link which ranged from frog legs to Buddy Bolden in advance of the Link Stryjewski Foundation Bal Masqué in New Orleans. ...read more >>
- The Huffington Post, Dec. 21 2016
Eating raccoon with Dr. John
Dr. John had wild things on his mind. Specifically squirrel, more specifically the squirrel brains his beloved aunt Guerneri used to cook for him when he was a kid growing up in New Orleans 3rd Ward. ...read more >>
- The Times-Picayune, Nov. 23 2016
New Orleans music giant Allen Toussaint saluted in style at Hollywood Bowl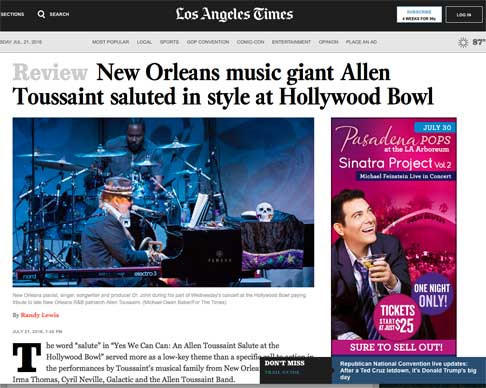 "It was during "Such a Night" that Dr. John made his musical kinship with Toussaint inescapable as he took two piano breaks in which he effortlessly reeled off a staggeringly complex progression of melodic ideas, accompanying chords and percussive rhythmic accents that have been a core attribute of New Orleans music for more than a century, reaching back to the innovative music of Creole pianist and composer Louis Gottschalk."
- Charleston City Paper - Feb. 13, 2016
- Kansas City Star
- SF Insider - October 7, 2015
Artists recreate Withers' historic 1972 concert song-for-song" - Rolling Stone
"Once it was decided Pride was going to buy and restore a bar in New Orleans, we knew Dr. John had to be the first musician on the show. Dr. John is a legend, a huge portion of the soul of Crescent City music and we wanted to have him bless Pride's venue as he has blessed so many real New Orleans musical institutions."
– CBS.COM
Dr. John Talks New Orleans Music 10 Years After Katrina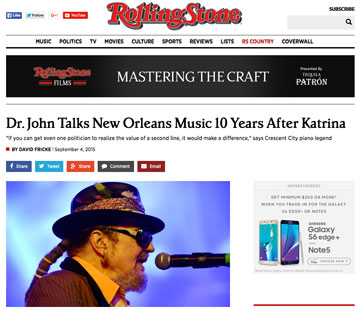 "If you can get even one politician to realize the value of a second line,
it would make a difference," says Crescent City piano legend.
Dr. John Press: Interviews for 2015 Summer Tour
ROLLING STONE: Dr. John Captures the Spirit of Satch at Louis Armstrong Tribute Show.
Mac Rebennack and special guests bring a history lesson to New York's Town Hall
– Rolling Stone, Feb. 2015
Ske-Dat-de-Dat: The Spirit of Satch


2014 Year-End Best Album Lists

"With co-producer/trombonist Sarah Morrow and a stellar cast of jazz fiends and hip-hoppers, The Physician Of Phonk celebrates the music of New Orleans big daddy Louis Armstrong. While the songs span a century, the arrangements and performances are thoroughly modern Macsterpieces, accenting the timelessness of quality."
By Michael Simmons – MOJO Magazine's 50 Best Albums Of 2014


"Dr John's exuberant tribute album to jazz great Louis Armstrong features trumpeters Terence Blanchard, Nicholas Payton, Arturo Sandoval, Wendell Brunious and James Andrews."
By Martin Chilton – The Telegraph's 33 Best Albums of 2014


"Ske-Dat-De-Dat, by Dr. John. A modern New Orleans legend here explores the music of the greatest of them all, Louis Armstrong; yet Dr. John remains true to his own style and sound. Accordingly, Satch would love it."
By Jack Garner – Top Jazz Albums of 2014, Gannett's Rochester Democrat& Chronicle


"Whatever the circumstances, hoodoo or heritage, that originally
surrounded its creation, Ske-Dat-De-Dat never stops experimenting, never stops surprising, and never stops entertaining."
By Nick DeRiso Best of 2014 – Something Else Reviews

"Ske-Dat-De-Dat … The Spirit of Satch" by Dr. John #7
Aquarian Arts Weekly – Top 10 Albums of 2014

"The protective power of Gris Gris came to town on Saturday night when New
Orlean's very own hoodoo man Dr John brought his 'Spirit of Satch' show to
the Barbican..."

– Jazzwise, Nov 2014
Interview

– BBC News, Nov 2014
DATE: Monday, April 16 – Friday, April 20, 2012.
PLACE: Mandeville and New Orleans, Louisiana.
SoulFire4TheGulf is a Gulf Healing Ceremony inspired by New Orleans Medicine Person and Musician, Dr. John. In Solidarity and Support of his vision, Turtle Women Rising and the tribal communities of Isle de Jean Charles, Pointe aux Chien, the Dulac Bands of the Biloxi, Chitimacha, Choctaw and the Atakapa Ishak Tribe join in Unity to welcome the Grandmothers, Elders and People of All Nations to support this Stand For The Earth. . ....more information.
SoulFire4TheGulf Benefit Show
Dr. John returns to Brooklyn to instigate and collaborate with Mz. imani and the Rhythm Shamans for a night of Music and Mojo Making Action, to benefit SoulFire4TheGulf. We gather To Have Some Fun…and… to raise some Funds! ....more information.

---


DR. JOHN'S 'TRIBAL' (429 RECORDS) EARNS GRAMMY NOMINATION FOR BEST CONTEMPORARY BLUES ALBUM
FIVE-TIME GRAMMY WINNER'S CONTRIBUTIONS TO 'TREME' AND 'THE PRINCESS AND THE FROG' ALSO RECOGNIZED

Following a GRAMMY win for his last album 'City That Care Forgot,' Dr. John is once again nominated in the Best Contemporary Blues Album category for his "career-defining" (AMG) new record, 'Tribal.'
In addition, his rendition of Randy Newman's "Down in New Orleans" is nominated for Best Song Written for Motion Picture, Television Or Other Visual Media, and the 'Treme' soundtrack, to which Dr. John contributes the track "Indian Red," is also nominated for Best Compilation Soundtrack Album for Motion Picture, Television or Other Visual Media.
A 2011 nominee for the Rock and Roll Hall of Fame, Dr. John is no stranger to the GRAMMY Awards; he's already won five in his illustrious career.
'Tribal' is his funkiest, swampiest record since his iconic 1968 album, 'Gris Gris,' and the reviews have been nothing short of spectacular.
According to the NY Times, "Dr. John sounds much the same as in his wily youth, singing in a drawling croak and playing piano and organ with a principal stake in rhythm," and Entertainment Weekly raved that "Dr. John and the Nite Trippers still make mystique-dripping grooves sound easy."
For more information about Dr. John, please contact Brendan Gilmartin (bgilmartin@shorefire.com) or Matt Hanks (mhanks@shorefire.com) at Shore Fire Media: (718) 522-7171.