May 2017
December '16
November '16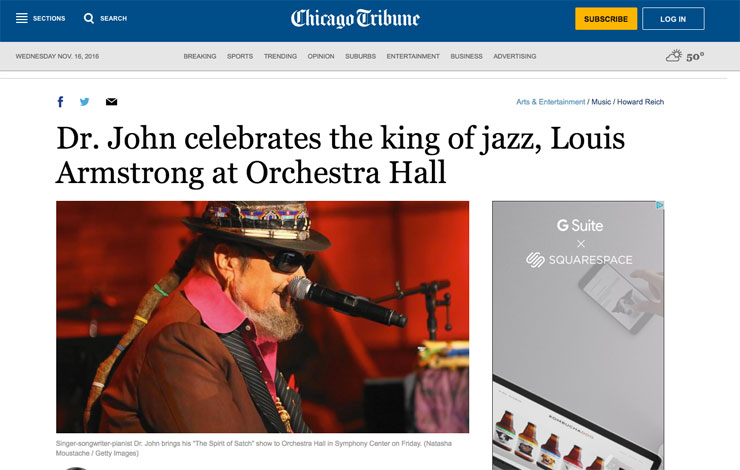 October '16
The event includes the launch of $1 million Jazz Foundation emergency fund for Louisiana musicians' relief after flooding; performers include John Mayer Trio, Robert Cray, Jon Batiste and Robert Randolph.
August '16
April '16
VIP Experiences and VIP Upgrades are now available in select cities for the upcoming Dr. John tour! "The Spirit of Satch" VIP Experiences include soundcheck access; a pre-show reception; limited edition signed tour poster; commemorative VIP laminate, and a post-show Meet and Greet with Dr. John. Experiences that include concert admission are available for shows on June 7, 2016, at City Winery in New York, NY; and on June 8, 2016, at Bergen PAC in Englewood, NJ.

Current ticketholders for the following shows may also upgrade their
existing tickets to include "The Spirit of Satch VIP Experience:

June 2, 2016 at Paramount Hudson Valley in Peekskill, NY
June 3, 2016 at Valley Forge Casino in King of Prussia, PA
June 4, 2016 at Turning Stone Resort in Verona, PA
June 7, 2016 at City Winery in New York, NY June 8, 2016 at Bergen PAC in
Englewood, NJ
March '16
NOVEMBER '15
Dr. John is heartbroken at the loss of his very dear friend Allen Toussaint.
(Photo Courtesy of Dr. John)



SEPTEMBER '15
Dr. John & The Nite Trippers Playing the First Pilgrimage Music Fest

Dr. John & The Nite Trippers will be performing at the inaugural Pilgrimage Music & Cultural Festival in Franklin, Tenn. on Sept. 26. The festival's name means to make a journey, and it will host music that comes from the legendary Gold Record Road from New Orleans through the Mississippi Delta to Memphis and Nashville.

The site features rolling hills and a natural ampitheater, and plans to offer a weekend of music and food for its first year. Tickets are now available.
JUNE 2015
Billboard News

Dr. John Performs "What a Wonderful World" at the Songwriter's Hall of Fame Ceremony

"The Towering Song award is given to a different classic each year, and this year's was Bob Thiele and George David Weiss' "What a Wonderful World," made famous by Louis Armstrong. The version played tonight by Dr. John was a New Orleans'ed-up take that was monstrously funky in that was only the Doctor can deliver. He moved slowly to the piano, aided by two feather and bangle-bedecked canes, laying down a driving groove that made the song forget its introspective mood and party, embellishing the end with a jazzy, soulful piano solo. It was probably the night's best musical performance.

Dr. John Wins Jazz FM Blues Artist of the Year Award!


"New Orleans icon and rock and roll hall of famer Dr. John was recognized with the Blues Artist Of The Year Award. The six-time Grammy Award winner is a bona fide legend whose 2014 and 2015 world tours included sold-out shows throughout the U.S. and Europe."
MAY 2015
Many new featured press articles available on the Press page
JUNE 2015
MARCH 2015
JANUARY 2015
AUGUST 2014
Rave reviews for Spirit of Satch, visit the press page.
New Orleans musical giant pays tribute to fellow Crescent City legend Louis Armstrong with star-studded, divinely-inspired new tribute disc      
MARCH 2014
FEBRUARY 2014
NOVEMBER 2013
JUNE 2013
MAY 2013
FEBRUARY 2013
JANUARY 2013
2013 Tour dates announced! Visit the tour page for more.
Locked Down is nominated for Best Blues Album at the 55th Annual Grammy Awards!
DECEMBER 2012
SEPTEMBER 2012
"Spirituals to Funk" features Rock & Roll Hall of Fame Inductee Dr. John and 5-time Grammy® Award Winners, The Blind Boys of Alabama. Under Dr. John's musical direction, the world premiere of "Spirituals to Funk" represents the first-ever touring partnership between two icons of American music.
JULY 2012
MAY 2012
APRIL 2012
MARCH 2012
FEBRUARY 2012
A Memorial for Herman Ernest will be held on March 18th at the Greater Liberty Baptist Church in New Orleans, honoring him one year since his passing.
Dr. John BAM Retrospective, New Dan Auerbach-Produced Album 'Locked Down' This Spring on Nonesuch Records April 3rd.

It's a pivotal year for Dr. John (a.k.a Mac Rebennack), the iconic and internationally revered musician and class of 2011 Rock and Roll Hall of Famer, who has a major three week artist-in-residency, Dr. John: Insides Out, at New York's prestigious Brooklyn Academy of Music (BAM) starting March 29 and a mind-blowing new album 'Locked Down,' produced by The Black Keys' Dan Auerbach more . . .
JANUARY 2012
AUGUST 2011
Dr. John returns to Brooklyn to instigate and collaborate with Mz. imani and the Rhythm Shamans for a night of Music and Mojo Making Action, to benefit SoulFire4TheGulf.
MARCH 2011
On March 6, 2011 we lost our beloved friend Herman "Roscoe" Ernest III, longtime drummer for Dr. John. Remembering Roscoe ... more

Dr. John is planning a SoulFire gathering for healing of the Gulf waters... more

FEBRUARY 2011
On Friday, January 28, OffBeat hosted the 2010 Best of the Beat Awards at Generations Hall for a night of music, food, and awards. more
Dr. John
won
BEST BLUES ARTIST, SONGWRITER OF THE YEAR and Tribal took BEST BLUES ALBUM
!
DECEMBER 2010
NOVEMBER 2010
SEPTEMBER 2010
AUGUST 2010
Please add this page to your favorites and check back for news, updates and new tour announcements. Laissez Les Bon Temps Roulez!
Dr. John featured on Time Magazine's 10 Questions. Also visit Time.com for video. Download the high res image in .pdf format for this question and answer session with Dr. John.